by Staff Writer on May 23, 2012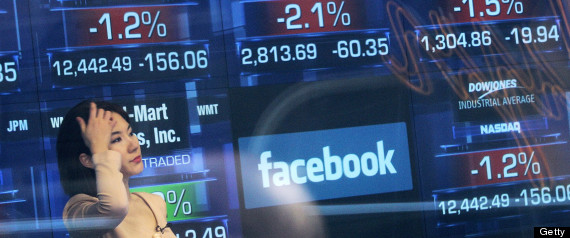 Facebook, Mark Zuckerberg, Banks Sued Over IPO [HuffingtonPost] Facebook Inc and banks including Morgan Stanley were sued by the social networking leader's shareholders, who claimed the defendants hid Facebook's weakened growth forecasts ahead of its $16 billion initial public offering. The defendants, who also include Facebook Chief Executive Officer Mark Zuckerberg, were accused of concealing from investors during the IPO marketing process "a severe and pronounced reduction" in revenue growth forecasts, resulting from increased use of its app or website through mobile devices. Facebook went public last week.
REPORT: Hedge Fund Manager Boaz Weinstein Up 16% This Month [BusinessInsider] Hedge fund manager Boaz Weinstein, the founder of Saba Capital and former co-head of credit trading at Deutsche Bank, is said to be killing it this month. Bloomberg reports that the legendary derivatives trader's Saba Capital, a credit-focused fund with ~$5 billion AUM, has returned ~16 percent this month. According to the report, those massive gains are mostly related to the euro crisis and the CDS that JPMorgan Chase's chief investment office in London has lost billions on.
Dartmouth College Whistleblowers Accuse Trustees Of Funneling Money Into Their Own Hedge Funds [BusinessInsider] We know that Dartmouth students aren't big fans of hedge funds, but it turns out the university's faculty aren't too keen on them either. A group of Dartmouth professors and employees are requesting that New Hampshire state launch an investigation into how the college's board of directors is funneling Dartmouth's endowment money into their own hedge funds, venture capital and private equity firms. The group sent a letter to the General Attorney of New Hampshire in February notifying the state of the alleged conflicts, which they assert are in violation non-profit laws in the state.
Teach Bill Ackman A Sport And He Might Hire You To His Hedge Fund [BusinessInsider] Bill Ackman is arguably one of the most watched hedge fund managers these days. His biggest investment JC Penney is tanking amid mixed earnings results, but he's also recently won a proxy fight with Canadian Pacific—another big holding of his—and oh, he just bought Burger King. So no doubt many may also be scrambling to land a job with the hedge funder and his firm Pershing Square, or at least find some way to get a little closer to the investor.
The Rush For The Exits Doomed Facebook's Stock [Forbes] David Ebersman, Facebook's chief financial officer, made the decision to increase the number of shares that would be sold in Facebook's IPO three days before the big event. The Wall Street Journal suggests this decision doomed Facebook's shares. By increasing the amount of shares being sold in the offering and boosting the IPO price to $38, Ebersman was maximizing the amount of money his company, Facebook, would raise by selling its most valuable asset—its stock. But Ebersman was also doing something else. A huge chunk of the expanded part of the offering included shares being sold by principal shareholders, big investment firms like Goldman Sachs that had invested in Facebook prior to the IPO. Facebook would not receive the rich proceeds from the sale of those extra shares.